Sunninghill Square
A boutique collection of Victorian-inspired homes that pay homage to the past with heritage detail and effortless elegance, creating a contemporary yet timeless finish in a village setting.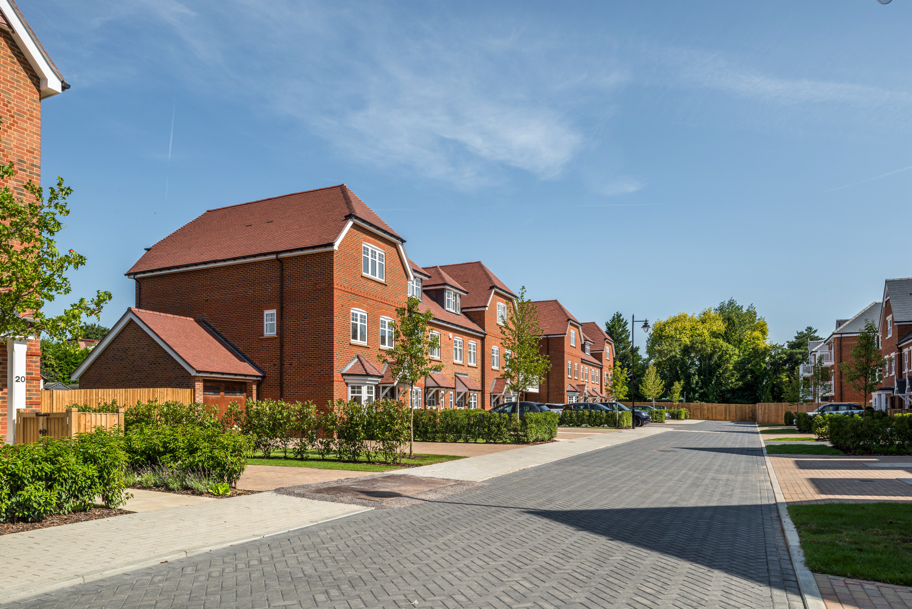 A hidden gem
Set within a friendly and welcoming village community, Sunninghill Square is a distinctive place to call home. At the heart of Sunninghill Square is the Village Green, where wildflowers and grasses flourish to create an appealing natural landscape. Where children can enjoy the timber play area and the athletically-inclined can work out on the accompanying fitness trail.
Sunninghill Square is a peaceful place to call home providing the perfect marriage of privacy and location, offering the rare opportunity to live a village lifestyle. The charming and characterful high street is rich in independent coffee houses, boutiques, florists and eateries. On your doorstep are some of England's most famous towns, such as Ascot and Windsor.
A touch of opulence
The interiors have been carefully selected to exude elegance and luxury, with quality in every detail. Handcrafted British kitchens with Cosmolite recycled stone worktops. Accents such as traditional knurled brass finishes and Victorian-inspired geometric tiles in bathrooms. Three panelled, satin painted internal doors with antique brass door furniture. The finish is simply exquisite.
Find out more about our current new homes
"A first rate service from a first rate team. My wife and I could not be happier with how well we have been taken care of and just how quickly DY were able to find the perfect buyer for our...
"Absolutely love Keely and Jessica. Found our new home in our dream area with our dream school for our little ones just 5 minutes away…. Cannot wait to move in and make our dream a reality….Thank you so much cannot...
"From initial enquiry to Completion it has been a blessing to find Duncan Yeardley Estate Agents. Unlike previous experiences with estate agents in London I found them friendly and helpful. Thank you Lucy and Duncan Yeardley for being so friendly,...
"I have worked extensively with both the Lettings and the Sales departments at Duncan Yeardley. All the staff in both departments are a pleasure to work with, with particular commendation going to Jessica Schofield in Lettings and Lucy Morrison and...
"Amazing service. Recently purchased our first property with Duncan Yeardley and the service was outstanding. Gina in particular went above and beyond to help. Highly recommend this agent!" Tim Campman